FOUNDERS
CONSTELLATION is a French consortium of privately held companies located in Strasbourg, France. PROTOMED, IHU STRASBOURG and BS MEDICAL TECH gather together years of expertise in medtech R&D, clinical expertise, testing, training and manufacturing.
A UNIQUE SITE
Strasbourg has been awarded "outstanding environment" label by the French Tech initiative, MedTech section. CONSTELLATION is located in NEXTMED, a medtech campus that brings together medical, scientific and industrial skills. Medtronic, GE, Siemens and Karl Storz are already there!
FOUNDING STARS
3 stars at the edge of Constellation

PROTOMED
R&D, Regulatory, Business Development

Located in Strasbourg, PROTOMED is a contract service R&D company specialized in medical device design, development and testing. PROTOMED has spun-offs its device testing laboratory ProtomedLabs and has participated to many developments in minimally invasive surgery, single use devices, vascular and cardiac implants. Its fablab includes prototyping machines (3D printers; CNC machines), test benches, control equipments and state of the art CAD software.

IHU STRASBOURG
Preclinical, Clinical expertice, training

The Institute of Image-Guided Surgery of Strasbourg develops innovative surgery, combining the most advanced minimally invasive techniques and the latest medical imaging methods. It has an outstanding facility that includes two 100-seat amphitheaters with live connection with clinical operating room, an experimental surgical platform composed of 17 operating tables, two operating rooms equipped with the double console da Vinci Si HD robotic system and three hybrid operating rooms equipped with interventional radiology equipment and minimally invasive systems.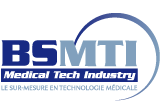 BS MEDICAL TECH
R&D, Manufacturing, Packaging

Created in 2008, by a senior manager in medtech manufacturing, BS-MTI is specialized in the design and production of medical devices. It has an exclusive know-how which today allies high-technology and cutting-edge industrial professionalism for technical innovations. BS-MTI has an ISO 8 clean room to meet all quality and security requirements that medical devices deserve.  It has a wide range of expertises in assembly of purge systems, balloon systems, catheters, etc.,